うつしかえ/Transformation
ものを異なる表れに換える作業について考えていました。楽譜を見ながらピアノで演奏することも、こうして私の興味をテキストに書き起こすことも、「うつしかえ」と考えることができます。
ものを異なる表れに換えるために、異なる方法を用いることは、違う制約や価値を持つ場所に移転することのように思えます。決して核心に近づいていくことではなく、ズレを新たに生成していくような行為かもしれません。でもその中に、今まで見ていなかった景色をみつけ、驚くことがあります。

I began to wonder how to create a work that would transfer something into another appearance. It can be said that playing the piano according to a score, or writing my concept into a text, are a kind of transferring of one thing into another.
Using different methods in order to transfer something into another appearance seems to move the work to other places, which have different restrictions and values. It might be an action of generating a new difference instead of going towards the center. Sometimes I am surprised at finding a scene that I had never imagined.

「あやとり」は手指の動きを紐にうつしかえていきます。簡単な動きで作られたあやとりが、よく見るととても複雑な造形物だということに驚きました。一周して元のところに帰ってくるはずのあやとり紐の経路について制作しました。
制作の経緯
1.手指のない状態でのあやとり紐をスケッチで確認
2.紐の経路を通路に見立てて作る
「かめのこ」のあやとりの行程を図面にする。傾斜の角度についてや、紐が上下に交差するところでは一定以上の高低差を確保するようにルールを決めて、「かめのこ」の構造をうつしとり、その通路の距離(あやとりにとっては紐の長さ)が保たれるように計画し、模型を制作した。

Ayatori (string figure) transfers the finger motions to a string. I'm intrigued by the complexity of the structures Ayatori can achieve something, despite its simple movement. I made an artwork that represents the trace of the Ayatori string, going around and coming back to the starting point.

Creative process
1. Draw the shape of the "Ayatori" strings once they have been taken out of fingers.
2. Create by regarding the shape of the string as a passage.
I draw the whole process of Kamenoko (tortoise) Ayatori. What I cared about are the angles of the strings and keeping enough space at the point where the string is crossing. Based on this rule, I traced the structure of Kamenoko, after which I made a prototype for "Transferring" based on my plan to keep the length of all the parts of the string.
The reason I paid particular attention to the length of the string was that the string should have autonomy as a world or a system in spite of its changing shape.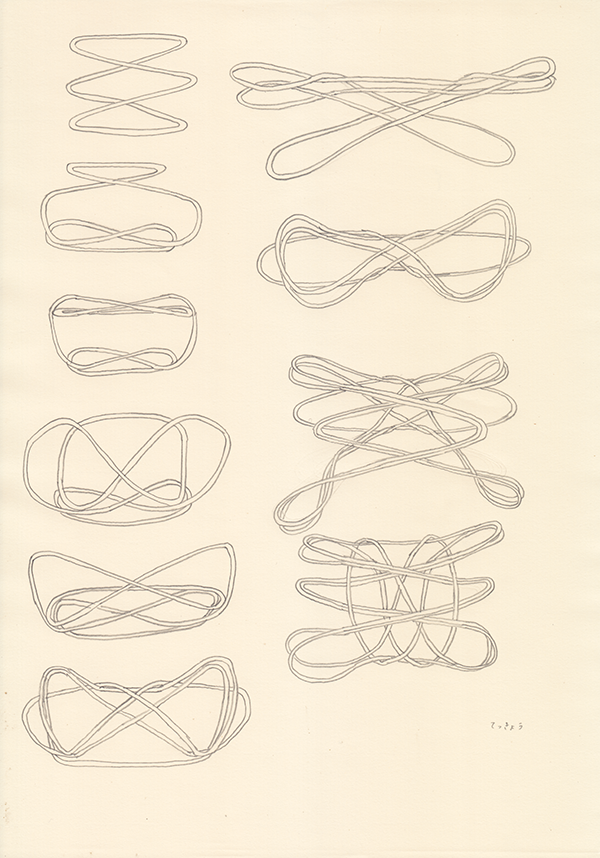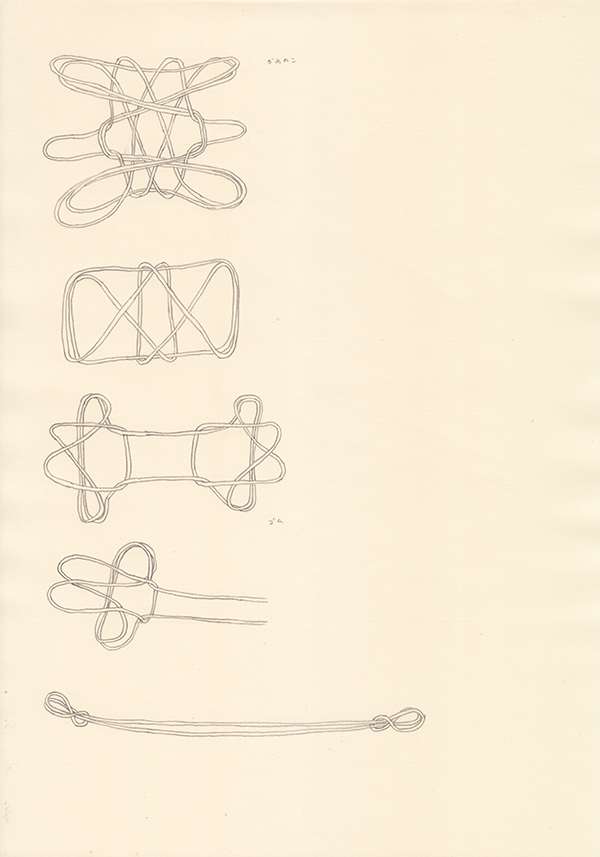 《わのひも_てっきょう》
《わのひも_かめのこ》
Drawing
2015
A4 size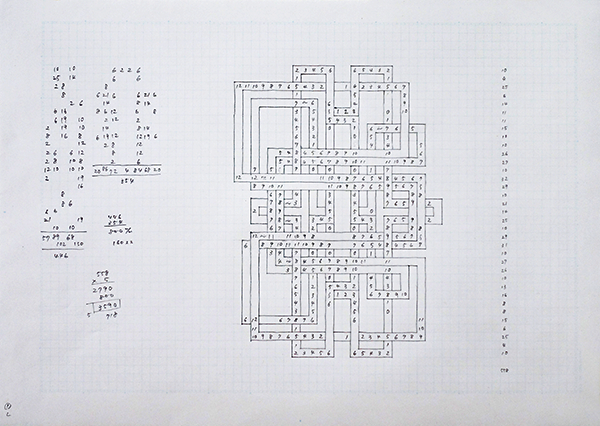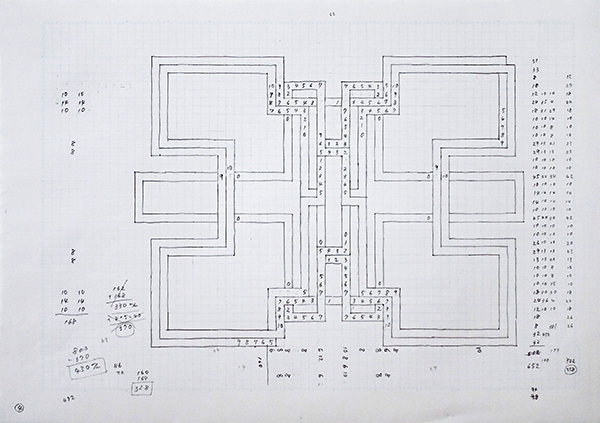 うつしかえの図面
1/11〜11/11
2015
5mm方眼紙